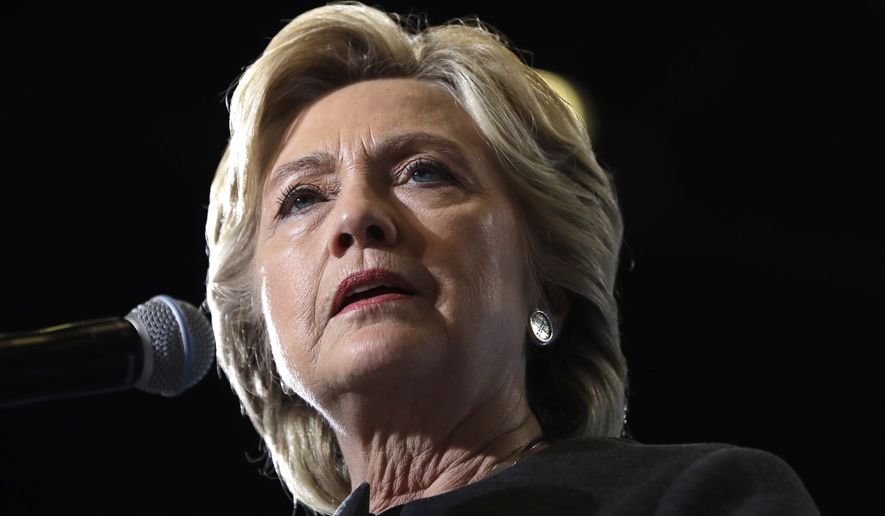 By Stephen Dinan
- The Washington Times - Thursday, October 13, 2016
Hillary Clinton
admitted under oath this week that she doesn't recall asking anyone for permission to use a secret server and email account during her time in the
State Department
, contradicting previous public pronouncements that she had received approval.
Mrs. Clinton
said she didn't recall seeing a 2011 warning about increased hacking attempts on senior department officials' private accounts and that she didn't actually write another warning that was sent under her name.
"Secretary
Clinton
states that she does not recall being advised, cautioned, or warned during her tenure as Secretary of State about hacking or attempted hacking of her clintonemail.com e-mail account or the server that hosted her clintonemail.com account," she said in sworn testimony dated Monday and filed in federal court Thursday.
A judge had ordered
Mrs. Clinton
to provide testimony as he decides whether the
State Department
fully complied with the Freedom of Information Act, which gives the public a right to see its public officials' records — including emails that contain government business.
Mrs. Clinton
for years foiled that law by using her secret account, which was tied to a server she kept at her home in New York, and which effectively shielded her emails from any sort of open records oversight. She returned some 30,000 messages in December 2014, nearly two years after she left government, and the FBI said it recovered thousands more that she failed to turn over.
Those are being released in batches, but Judicial Watch, a public interest law firm that has sued to get a look at all of the emails, is trying to get a full accounting of where the system broke down during
Mrs. Clinton
's tenure.