FDNY: 29 Injured in Apparent Explosion in Manhattan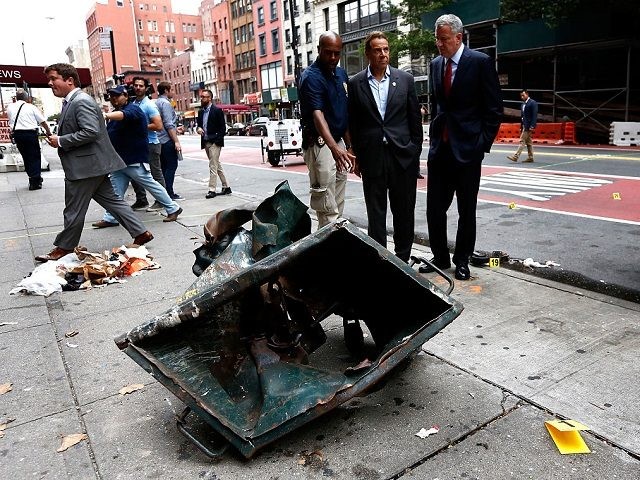 Live updates on this developing situation below, full AP wire at the bottom:
Update 2:46am ET
Update 2:10am ET
Update 2:00am ET
Five terror suspects are arrested as bomb explodes at New Jersey train station: FBI stops men in SUV 'packed with weapons' on New York bridge as cops blow up IED that was planted hours earlier.
Update 1:51 ET
Conflicting reports on whether the explosion heard on early Monday morning in New Jersey was a controlled explosion or not:
Update 1:44am ET
Update 1:33am ET
Update 1:30am ET
Update 1:20am ET
ELIZABETH, N.J. — A large explosion was heard in New Jersey early Monday near the scene where a suspicious package that appeared to contain pipe bombs was discovered earlier near the Elizabeth transit station.
No damage was immediately visible. There was no immediate word from authorities on whether the explosion might have been a controlled detonation of the device found a few hours earlier, but no warning of such a blast was given beforehand.
Update 1:00am ET
Update 12:50am ET
More on Chelsea bombing:
Update 12:28am ET
From CBS New York:
ELIZABETH, N.J. (CBSNewYork) — A suspicious device was found on the Northeast Corridor train tracks in Elizabeth, New Jersey, Sunday night.
The suspicious item was found in the area of North Broad and Westfield Avenue.
Mayor Chris Bollwage said the Union County Bomb Squad determined it could be a bomb. The FBI is also on scene.
Update 12:34am ET
Update 12:30am ET
Update September 18 12:25am ET
From the Associated Press:
NEW YORK (AP) — Agents with the FBI pulled over a car on a highway in Brooklyn on Sunday night and were questioning the vehicle's occupants in connection with the investigation into the New York City bombing that injured 29 people, authorities said.
Agents stopped "a vehicle of interest in the investigation" at 8:45 p.m. Sunday, according to FBI spokeswoman Kelly Langmesser
She wouldn't provide further details, but a government official and a law enforcement official who were briefed on the investigation said five people in the car were being questioned at an FBI building in lower Manhattan.
The officials spoke on condition of anonymity because they were not authorized to speak about the ongoing investigation.
No one has been charged with any crime and the investigation is continuing, Langmesser said.
Update 8:07pm ET
Libertarian presidential nominee Gary Johnson says "gratefulthat nobody got hurt" in bombings. (29 were injured in NYC alone.)
Update 5:30pm ET: Letter with Arabic writing found with second device.
Update 4:50pm ET:
Surveillance video shows the moment of the explosion:
Update 3:59pm ET:
Photographer Jane Schreibman tells the
Daily Mail
how she almost overlooked the second bomb apparently intended to detonate in New York City:
'I walked 10 or 15 feet on the block and I saw a strange contraption – a pot with wires coming out of it,' Schreibman told the DailyMail.com.

'My first thought was it was a kids' science experiment that they were throwing out.'

Schreibman continued walking but the road was closed, forcing her to turn back. She thought she should take another look.

The pot, she said, had wires coming out of it and had been left near a mailbox. It had duct tape around the lid, to hold the lid down and to keep the wires in place.
Update 3:58pm ET:
Update 3:50pm ET:
Update 1:46pm ET:
A 911 caller warned of further explosions right after the blast that rocked Manhattan's Chelsea neighborhood and injured 29 people, The Post has learned.

"I'm looking at the explosion down the block. There will be more," the unidentified male said, claiming to be standing at 23rd Street and Seventh Avenue in the aftermath of

the terrifying incident

, according to law-enforcement sources Sunday.
Update 12:35pm ET:
Lede buried by AP writeup:
Update 12:29pm ET:
From the Associated Press — Gov. Andrew Cuomo insists there is no tie to international terrorist organizations.
NEW YORK (AP) — Gov. Andrew Cuomo said Sunday a blast that injured 29 people in Manhattan was caused by some kind of bomb, but the attack didn't appear to be linked to international terrorism.

Cuomo, speaking near the scene of the Saturday night blast, told reporters a second device found blocks away from the first explosion appeared "similar in design" to the first, though investigators are still testing its remnants after it was removed by a bomb squad robot and blown up at a police facility in the Bronx.

The bombing rocked the city's Chelsea neighborhood, a mostly residential part of Manhattan's west side known for its art galleries and large gay population. Witnesses described hearing a deafening blast, and surveillance video footage captured images of nearby windows being blown out by the explosion as people sprinted away from the scene.

"We will find whoever planted these explosives and they will be punished," said Cuomo, a Democrat. He said all 29 people who were injured have been treated and released from a hospital.
Update 12:21pm ET:
Update 12:00pm ET:
Update 2:05am ET:
Update 12:35am ET:
Update 11:50pm ET:
Update 11:42pm ET:
Update 11:40pm ET:
Update 11:35pm ET:
Update 11:32pm ET:
Update 11:28pm ET:
Update 11:22pm ET:
***
Update 11:08pm ET:
***
NEW YORK (AP) — An explosion rocked a crowded Manhattan neighborhood and injured 29 people, and a suspicious device discovered blocks away was safely removed early Sunday. Mayor Bill de Blasio ruled out any terror connections but called the blast an "intentional act."
"Tonight, New York City experienced a very bad incident," de Blasio said at a news conference near the scene in Chelsea. "We have no credible and specific threat at this moment."
De Blasio tried to calm any fears among nervous New Yorkers, saying the explosion had no terrorist connection and wasn't related to a pipe bomb explosion earlier Saturday in New Jersey that forced the cancellation of a charity run.
"Now, I want to be clear: Whatever the cause, whatever the intention here, New Yorkers will not be intimidated," the mayor said. "We are not going to let anyone change who we are or how we go about our lives."
It was unclear who was behind the blast and what motivated it.
A law enforcement official told The Associated Press that a second device that officers investigated four blocks from the scene appeared to be a pressure cooker attached to wiring and a cellphone. The official, who was not authorized to speak about an ongoing investigation and spoke on condition of anonymity, said the device was found inside a plastic bag on West 27th Street. The device was removed with a robot and taken to a department firing range in the Bronx.
The law enforcement official also said that the explosion that rocked a bustling Chelsea neighborhood appeared to have come from a construction toolbox in front of a building. Photos from the scene show a twisted and crumpled black metal box.
The blast happened on West 23rd Street, in front of a residence for the blind, near a major thoroughfare with many restaurants and a Trader Joe's supermarket. Witnesses said the explosion at about 8:30 p.m. blew out the windows of businesses and scattered debris in the area. Officials said no evacuations were necessary.
The Fire Department of New York said 24 people were taken to hospitals with injuries. One person received a puncture wound that was considered serious. The other injuries were described as scrapes and bruises.
New York City subway routes were affected by the explosion, which rattled some New Yorkers and visitors on the heels of the 15th anniversary of the 9/11 terror attacks.
Chris Gonzalez, visiting from Dallas, was having dinner with friends at a restaurant in the area.
"We felt it. We heard it," Gonzalez said. "It wasn't like jolting or anything. Everyone just went quiet."
Rudy Alcide, a bouncer at Vanity Nightclub at 21st Street and 6th Avenue, said he, at first, thought something large had fallen.
"It was an extremely loud noise. Everything was shaking, the windows were shaking," he said. "It was extremely loud, almost like thunder but louder."
The FBI and Homeland Security officials, along with the Bureau of Alcohol, Tobacco, Firearms and Explosives arson and explosive task force, were at the scene.
The White House said President Barack Obama was apprised of the explosion.
In St. Cloud, Minnesota, police said at least eight people were injured at a shopping mall Saturday evening in a stabbing attack. The suspect was shot dead by an off-duty police officer.
Democratic presidential nominee Hillary Clinton said she had been briefed "about the bombings in New York and New Jersey and the attack in Minnesota."
She says the nation needs to support its first responders and "pray for the victims."
"We have to let this investigation unfold," she said.
Donald Trump moved ahead of New York City officials when he declared a "bomb went off" before officials had released details. He made the announcement minutes after stepping off his plane in Colorado Springs, Colorado.
"I must tell you that just before I got off the plane a bomb went off in New York and nobody knows what's going on," Trump said.
He continued, "But boy we are living in a time – we better get very tough, folks. We better get very, very tough. It's a terrible thing that's going on in our world, in our country and we are going to get tough and smart and vigilant."
The Republican presidential nominee made the comments around 9:10 p.m., shortly after the explosion and as emergency officials responded to the blast. A spokeswoman for Trump did not respond to an email asking whether he was briefed about it before taking the stage.
The Manhattan blast came hours after a pipe bomb exploded in Seaside Park, New Jersey, shortly before thousands of runners were due to participate in a charity 5K race to benefit Marines and sailors. The run was canceled, and no injuries were reported.
—
Associated Press writers Jake Pearson, Ezra Kaplan and Maria Sanminiatelli in New York and Eric Tucker and Kevin Freking in Washington contributed to this report.