Charlotte 'Protest': Looting, Shooting, and Social Justice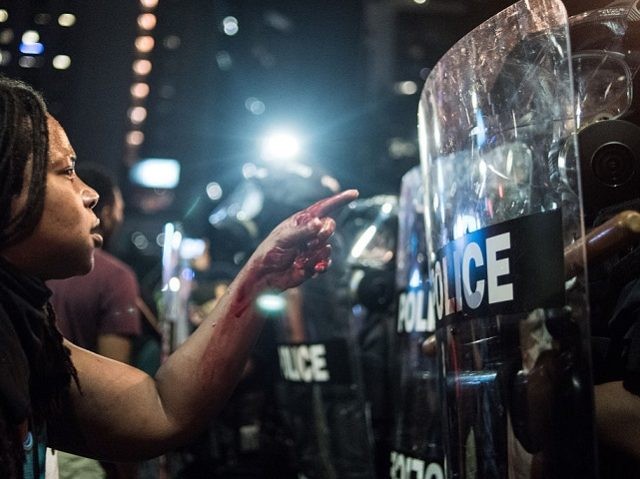 Four years ago, the city of Charlotte hosted President Barack Obama as he received the Democratic Party's nomination for re-election to the White House. This week, it has suffered violent riots over the police shooting of Keith Lamont Scott.
Scott, who is black, was allegedly
armed
at the time of his confrontation with police on Tuesday. The officer who shot him is also black. One person was shot and gravely wounded by a fellow civilian on Wednesday, during a second night of violence, the latest to mar the Black Lives Matter movement.
At about 4:30 Wednesday, a group of two dozen protesters stood in front of the Bank of America Tower at Trade and Tryon streets. They silently stood and held signs reading "Black Lives Matter" and "Stop Killing Us."

Andrew Monroe said the protest was organized informally by a group of black professionals. "What we want to do is show we're not dangerous," he said. "We want to show the world it's not thugs out here." Monroe said black people deserve to be safe in the streets and don't feel that way in the spate of recent police shootings. Across town at UNC Charlotte, students gathered at the Union and laid down in protest.
Protests had remained peaceful in uptown on Wednesday, after the fatal police shooting of Keith Lamont Scott. But the scene turned chaotic after 8:30 p.m., when protesters went from Marshall Park to the EpiCentre dining and entertainment complex and the Omni on Trade Street.
Gunfire erupted in the crowd, and one protester was wounded. He was initially reported to have been killed, but that report was later corrected to indicate that he was critically wounded, and on life support.
The demonstration then refused to disperse and grew more violent. Police attempted to use tear gas to end the protest, as North Carolina Gov. Pat McCrory declared a state of emergency and deployed the National Guard and the State Highway Patrol to assist local law enforcement.
Meanwhile, looting and attacks on property spread throughout the downtown area. In one particularly chilling moment, a CNN reporter was assaulted during a live shot on the scene.
The reporter later said that the man who attacked him came back to apologize. Other journalists were also attacked, including a photographer who was allegedly unconscious when rioters
tried to toss him into a fire
.
Meanwhile, the destruction spread. One unlikely target was the Charlotte Hornets team store:
Other targets included local shops and apartment buildings:
The demonstration later moved to local interstate highways, such as the I-85 and I-277:
The Observer reports that the city was calm by 5:00 a.m. Thursday.