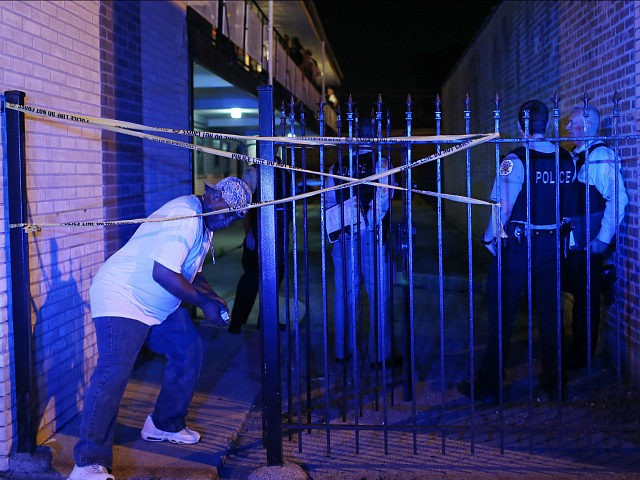 July 2016 was the "deadliest July in 10 years" for heavily gun-controlled Chicago: Sixty-five individuals were shot and killed.
Moreover, according to the
Chicago Tribune
, such death figures do not set a new record — they simply tie a record set in 2006, when 65 individuals were killed in the month of July. This brings Chicago's homicide total to "nearly 400" for the first seven months of 2016 alone. The number of homicides for the whole year of 2015 was 490.
Police Superintendent Eddie Johnson tried to abate the feeding frenzy on the July death numbers by pointing out that they are at least better than the numbers for June, "when 72 homicides were reported."
Breitbart News previously reported
that May 2016 was also a recording-setting month. Almost 400 people were shot and 66 people were killed in that one month. The
Chicago Tribune
reported
May 2016 as the deadliest May since 1995, when 75 people were gunned down.
On August 2, the
Chicago Tribune
reported a total of 2,395 shooting victims in Chicago for the seven months of 2016. There were 2,988 shooting victims for all of 2015. These shootings come in spite of the city's "assault weapons" ban, "violence tax," strict rules on acquiring handguns, and micro-management of the number of gun stores in the city, as well as of the locations of those stores.
AWR Hawkins is the Second Amendment columnist for Breitbart News and political analyst for Armed American Radio. Follow him on Twitter: @AWRHawkins. Reach him directly at awrhawkins@breitbart.com
.
----------------------------------------------------------------------------------------------------
It has been

SO BAD

For years that

CHICAGO MEDIA d

oes Not even report on the shootings -

ONLY the #MURDERS !
Even FOX WFLD32, which is the ONLY News Outlet that reports the daily shootings 30-50) has been skipping these awful statistics.
The GAY LIBS continue to
PUSH for MORE and MORE GUN CONTROL in one of the STRICTEST GUN CONTROL Cities in the na
tion.
BTW - 95% of the MURDERS and SHOOTINGS are BLACK ON BLACK and BROWN on BROWN CRIME - just look at the PICTURES of the PERPS!
But
#BlackLivesMatter is SILENT on this issue as they continue in
their juvenile list of Demands for a Socialist Utopia !
And #OBAMA is Also SILENT and has NEVER come to #CHICAGO to address this issue, though the JACKSON PARK Location he has chosen for his TEMPLE (er, Presidential Library) Is only BLOCKS from the HOME of the DRUG DEALING NEGRO GANGS that perpetuate this DAILY SLAUGHTER!