with Anthony Weiner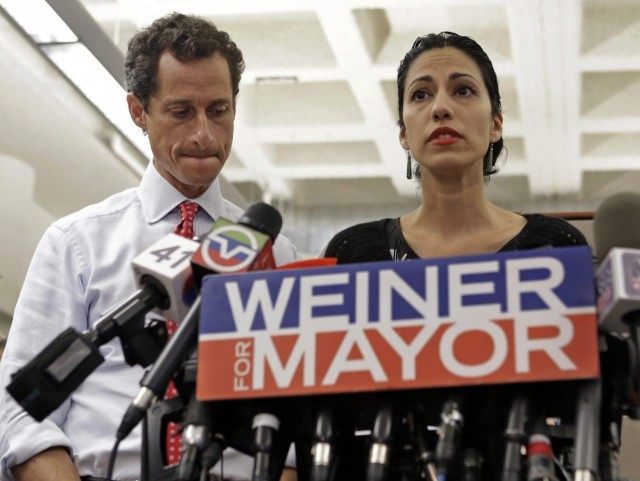 Hillary Clinton's top aide Huma Abedin reveals inVogue today that her Muslim faith helped her deal with her husband Anthony Weiner after news of his perverted online behavior ruined his political career.
"I tried to block out all the noise and move on with my life," Abedin says, as the piece notes that she cited her Muslim faith to help her as well as a "a really supportive group of friends and colleagues" after the disturbing revelations that went public.
"That support system enabled us—enabled me—to get up and to keep doing what I thought were the right things for my family and for myself," she said.
Abedin says she hasn't seen the Weiner documentary of his doomed mayoral campaign where she played the role of a supporting wife in the midst of the second public meltdown on his political career.
She also reveals why she was attracted to Weiner in the first place.
"One of the things that, because we became friendly, I found striking about Anthony was how smart he was, what a great debater he was. He was smart, he was passionate," she said. "When he wanted to do something that he thought was the right thing to do, he would not give up. The kind of dedication and passion he had for helping people, I found very attractive and inspiring."
The article notes that her father started the nonprofit group, the Institute of Muslim Minority Affairs and that her mother was "an outspoken, much-respected feminist."
Just last week, details of yet another Weiner sexting scandal
made headlines
.
Quran (2:191-193)
-
"
And kill them wherever you find them, and turn them out from where they have turned you out.
And Al-Fitnah
[disbelief or unrest]
is worse than killing...
but if they desist, then lo! Allah is forgiving and merciful. And fight them until there is no more Fitnah
[disbelief and worshipping of others along with Allah]
and worship is for Allah alone. But if they cease, let there be no transgression except against Az-Zalimun (the polytheists, and wrong-doers, etc.)"
(Translation is from the
Noble Quran
) The
historical context
of this passage is
not
defensive warfare, since Muhammad and his Muslims had just relocated to Medina and were
not
under attack by their Meccan adversaries. In fact, the verses urge
offensive
warfare, in that Muslims are to drive Meccans out of their own city (which they
later did
). The use of the word "persecution" by some Muslim translators is thus disingenuous (the actual Muslim words for persecution - "idtihad" - and oppression - a variation of "z-l-m" - do not appear in the verse). The actual Arabic comes from "fitna" which can mean disbelief, or the disorder that results from unbelief or temptation. Taken as a whole, the context makes clear that violence is being authorized until
"religion is for Allah"
- ie. unbelievers desist in their unbelief.
Quran (2:244)
-
"Then fight in the cause of Allah, and know that Allah Heareth and knoweth all things."
Quran (2:216)
-
"Fighting is prescribed for you, and ye dislike it. But it is possible that ye dislike a thing which is good for you, and that ye love a thing which is bad for you. But Allah knoweth, and ye know not."
Not only does this verse establish that violence can be virtuous, but it also contradicts the myth that fighting is intended only in self-defense, since the audience was obviously not under attack at the time. From the Hadith, we know that this verse was narrated at a time that Muhammad was actually trying to motivate his people into
raiding merchant caravans
for loot.
Quran (3:56)
-
"As to those who reject faith, I will punish them with terrible agony in this world and in the Hereafter, nor will they have anyone to help."
Quran (3:151)
-
"Soon shall We cast terror into the hearts of the Unbelievers, for that they joined companions with Allah, for which He had sent no authority".
This speaks directly of polytheists, yet it also includes Christians, since they believe in the Trinity (ie. what Muhammad incorrectly believed to be 'joining companions to Allah').
Quran (4:74)
-
"Let those fight in the way of Allah who sell the life of this world for the other. Whoso fighteth in the way of Allah, be he slain or be he victorious, on him We shall bestow a vast reward."
The martyrs of Islam are unlike the early Christians, who were led meekly to the slaughter. These Muslims are killed in battle as they attempt to inflict death and destruction for the cause of Allah. This is the theological basis for today's suicide bombers.
Quran (4:76)
-
"
Those who believe fight in the cause of Allah…"
Quran (4:89)
-
"They but wish that ye should reject Faith, as they do, and thus be on the same footing (as they): But take not friends from their ranks until they flee in the way of Allah (From what is forbidden). But if they turn renegades, seize them and slay them wherever ye find them; and (in any case) take no friends or helpers from their ranks."
Quran (4:95)
-
"Not equal are those believers who sit (at home) and receive no hurt, and those who strive and fight in the cause of Allah with their goods and their persons. Allah hath granted a grade higher to those who strive and fight with their goods and persons than to those who sit (at home). Unto all (in Faith) Hath Allah promised good: But those who strive and fight Hath He distinguished above those who sit (at home) by a special reward,-"
This passage criticizes "peaceful" Muslims who do not join in the violence, letting them know that they are less worthy in Allah's eyes. It also demolishes the modern myth that "Jihad" doesn't mean holy war in the Quran, but rather a spiritual struggle. Not only is the Arabic word used in this passage, but it is clearly
not
referring to anything spiritual, since the physically disabled are given exemption. (The Hadith reveals the context of the passage to be in response to a blind man's protest that he is unable to engage in Jihad and this is reflected in other translations of the verse).
Quran (4:104)
-
"And be not weak hearted in pursuit of the enemy; if you suffer pain, then surely they (too) suffer pain as you suffer pain..."
Is pursuing an injured and retreating enemy really an act of self-defense?
Quran (5:33)
-
"
The punishment of those who wage war against Allah and His messenger and strive to make mischief in the land is only this, that they should be murdered or crucified or their hands and their feet should be cut off on opposite sides or they should be imprisoned; this shall be as a disgrace for them in this world, and in the hereafter they shall have a grievous chastisement"