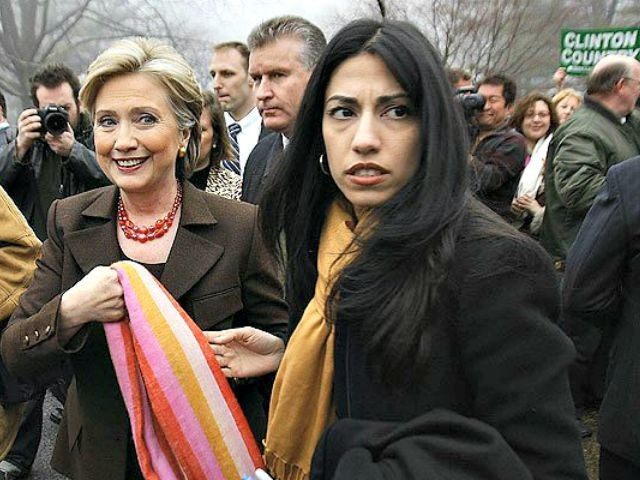 Chic gal pal? Mild mannered politician's wife? Harmless clotheshorse? Saudi plant? Innocent aide? Handler?
Huma Abedin is Vice Chair of Hillary Clinton's 2016 presidential campaign. But Huma is more, much more than that. She is the person closest to the most powerful woman in American politics and perhaps the next President. Huma has been described variously as Hillary's "body woman," a sort of glorified go-to personal maid, gentle confidant, and by others as an Islamic spy. She may be all of these things, because as we shall see, Huma Abedin has an interesting and complex career history.
Her mother, Saleha Mahmood Abedin, was born in Pakistan. Saleha received her Ph.D. in Sociology from the University of Pennsylvania in 1977.
Two years after Huma was born, the family moved to Jeddah, Saudi Arabia and with the patronage of Abdullah Omar Naseef of the Muslim World League, founded the Institute of Muslim Minority Affairs with offices in Saudi Arabia and London, England. In the 1980's Syed Abedin was a counselor of the Muslim World League. After his death in 1993, his wife Saleha took over and serves as director of the IMMA (Institute of Muslim Minority Affairs) and as the editor of that organization's academic magazine, the Journal of Muslim Minority Affairs. More recently she still edits the Journal and is also a part of the administration of Dar Al-Hekma Women's College.
It turns out the Journal of Muslim Minority Affairs is an Abedin family business. Huma was an assistant editor there between 1996 and 2008. Her brother, Hassan, 45, is a book-review editor at the Journal and was a fellow at the Oxford Center for Islamic Studies, where Nasseef is chairman of the board of trustees. Huma's sister, Heba, 26, is an assistant editor at the Journal.
But the connections between the Abedin's Saudi benefactor, the Muslim World League, and al-Qaeda don't end there.
In 1984, foreign mujahidin fighters were streaming in from all over the world to an office in Peshawar, Pakistan known as Maktab al-Khidamat or MAK.
Azzam, now determined to move to Pakistan, obtained a teaching position at the newly established International Islamic University of Islamabad, whose foreign faculty were paid directly by the Muslim World League. Thus, from his arrival in Pakistan in December 1981 until his permanent move to Peshawar in 1986, the leader of the Arab Afghans subsisted on a Muslim World League salary.
The office that bin Laden and the other MAK founders were based out of 1984 in Peshawar was the office of the Muslim World League and the Muslim Brotherhood. The Muslim World League was also a principal funder of MAK, bringing in Saudi funds that would eventually go to jihad against the West.
The head of the Muslim World League when their offices in Pakistan were used by Bin Laden, Zawahiri and Azzam in 1984 was none other than the Abedin's benefactor, Abdullah Omar Naseef.
When the towers fell in 2001, Hillary Clinton was the Senator from New York. When the assets of the Rabita Trust were frozen and the group declared a terror funder, there was no point where Sen. Clinton's assistant Huma Abedin stepped forward to shed light on her family's benefactor Abdullah Omar Naseef, the Muslim World League, or the Rabita Trust.
Sen. Clinton and Huma Abedin betrayed every New Yorker and every America with their silence.
The question here is, on an annual salary of no more than $28,000, where did the money come from? We've caught of the greatest spies due to their spending well beyond their salaries.
At the least, what to make of someone who has lived for 17 years in Saudi Arabia, with parents who have close, long-standing ties with people connected to terrorist organizations, and then comes to the U.S. and within two years gets a job as the First Lady's assistant?
In 2010, Huma married Congressman Anthony Weiner. In 2011, her husband was caught sexting — sending pictures of his erection to several women. He resigned from Congress that same year.
So how has the media dealt with Huma Abedin? In short, they haven't. The family's critics have been attacked and labeled as conspiracy theorists.
This isn't some minor aide. Huma Abedin has been at Clinton's side for decades, and it's time America got some answers.