Jihad in Orlando: Was Omar Mateen Really a Lone Wolf?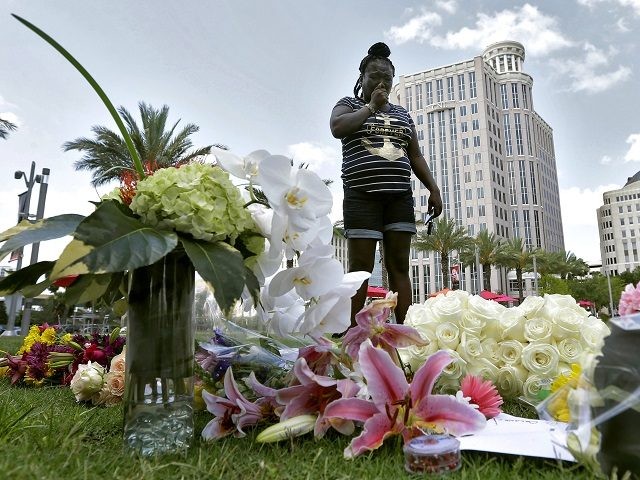 Breitbart News presents live coverage of the aftermath of the jihadist Omar Mateen's massacre at Orlando's Pulse. One day after the largest terrorist attack on U.S. soil since 9/11, law enforcement continues to release new information on the investigation which is affecting political battles such as the 2016 presidential election and Britain's referendum on leaving the European Union.
All times Eastern Standard Time.
*****
Top updates:
*****
It remains unclear what role the methods and ideology of the group, which is based in the Middle East, played in the slaughter Mateen carried out at a gay nightclub in Orlando. Investigators say he made

a 911 phone call during the attack

in which he said he was avenging the bombings of Muslims in the Middle East and referenced the 2013 Boston Marathon bombings.

But if there is a clear link between the attack in Orlando and the Islamic State, it would be the most high-profile incident yet in the group's wider, relentless campaign against gays. Ever since the group came to prominence amid security vacuums in Iraq and Syria, it has set about persecuting religious minorities, women and others whose identity and lifestyle are anathema to its puritanical creed. In areas under the control of the Islamic State, its fighters have issued edicts against homosexual behavior and flashy hairstyles and

promised death for anyone caught in the act of sodomy

.

Across the Middle East, the LGBT community faces varying degrees of repression, both because of laws directed against its members and the wider social stigma. But under the Islamic State, things took a devastating turn.
FBI and local police are wrapping the search of the home of Mateen's family in Port St. Lucie. They removed several boxes, along with a computer from the home at 937 SW Bayshore Boulevard. They also searched the three cars in the driveway.
The gunman who murdered at least 50 people in a Florida nightclub early Sunday morning was a follower of a controversial gang leader-turned-bank robber who was released from prison last year despite warnings from prosecutors that he would recruit people to carry out violent acts, sources told FoxNews.com.

Omar Mateen, whose bloody siege inside a packed Orlando gay nightclub ended when SWAT teams stormed the building and killed him, was a radical Muslim who followed Marcus Dwayne Robertson, a law enforcement source said.

"It is no coincidence that this happened in Orlando," said a law enforcement source familiar with Robertson's history of recruiting terrorists and inciting violence. "Mateen was enrolled in [Robertson's online] Fundamental Islamic Knowledge Seminary."
In 2015, after Moner Abusalha became the first American suicide bomber in Syria, the FBI investigated Omar Mateen's connection to Abu-Salha.

Abu-Salha went to the Middle East, trained, and returned to the Treasure Coast, specifically Vero and fort Pierce, to recruit. The FBI says he didn't recruit anyone, but it's possible he did have contact with Mateen.
Gilroy, a former Fort Pierce police officer, said Mateen frequently made homophobic and racial comments. Gilroy said he complained to his employer several times but it did nothing because he was Muslim. Gilroy quit after he said Mateen began stalking him via multiple text messages — 20 or 30 a day. He also sent Gilroy 13 to 15 phone messages a day, he said.

"I quit because everything he said was toxic," Gilroy said Sunday, "and the company wouldn't do anything. This guy was unhinged and unstable. He talked of killing people."

Gilroy said this shooting didn't come as a surprise to him.
Law enforcement officials were looking for clues as to whether anyone worked with Mateen on the attack, said Lee Bentley, U.S. Attorney for Florida's middle district.

"There is an investigation of other persons, we are working as diligently as we can on that," Bentley told a news conference. "If anyone else was involved in this crime, they will be prosecuted."
Gunman Omar Mateen killed 49 people and left 53 others injuredin three-hour Sunday attack that police chief John Mina described in the greatest detail yet on Monday morning. A police officer confronted Mateen immediately after the shooting began, Mina said, causing the gunman to retreat to a bathroom and take people hostage.
Police then rescued "dozens and dozens of people", many wounded, from inside the club, Mina said, and caught their first glimpse of the massacre within.
Mateen barricaded himself in a bathroom with four to five people,and officers began negotiations. Mina said Mateen was "cool and calm" and "Wasn't asking a whole lot. We were doing most of the asking." They spoke about explosive devices and more loss of life, and it was in the bathroom that Mateen called a 911 operator.
Mina said he ordered a rescue at about 5am. Officers set off distraction explosives and tried to blow a hole in the wall of the bathroom. The controlled blast was only partially successful, so they they rammed the wall with an armored vehicle, creating a hole 3-4ft wide. Dozens of people escaped through the hole, and police rescued others in the club.
The gunman himself came out of the hole armed with a handgun and long gun, Mina said, and Mateen was shot dead there in a gun battle with police before sunrise. Mateen was the 50th person killed on Sunday.